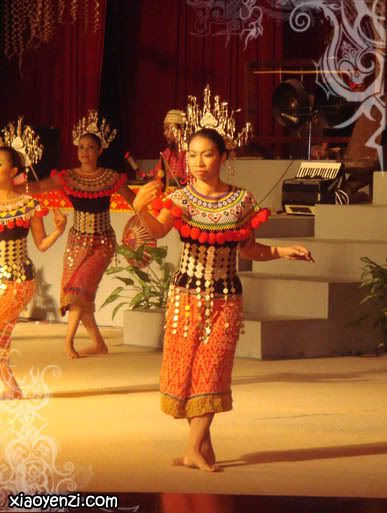 1st June, it's the
Gawai Festival
– an event celebrated by the local races in Sarawak. It's actually the harvest festival. People gather together to celebrate a time of good harvest. In fact, it is known as
Gawai Dayak
which originally celebrated by the
Ibans
.
The Gawai Dayak festival is celebrated every year on the 1st of June, at the end of the harvest season to worship the Lord Sempulang Gana. On this day, the Ibans get together to celebrate, often visiting each other. The Iban traditional dance, the ngajat, is performed with the accompaniment of the taboh and gendang, the name of the Ibans' traditional music. Pua kumbu, the Iban traditional cloth, would be used to decorate houses. Tuak, which is rice wine, would be served to guests.
I went to the Sarawak Cultural Village with my boyfriend to experience the Gawai celebration.
Lastly, Selamat Gawai and wishing you gayu guru gerai nyamai (long life, health and prosperity).