If you see cute mini things, what is your reaction? Will you exclaim something like "Eeeeeeeeeee…it's so cute!!!"? Suppose most girls will do that. Is that the inspiration for naming this mini notebook the Eee PC? Just kidding..
The triple E from ASUS Eee PC stand for Easy to Learn, Easy to Work, Easy to Play.  Its design is really convenient for mobile users. It's only 0.99kg!! Comes in two colors: Pearl White and Black.
The new Eee PC 900 offers you more options for your mobile computing needs. Incorporating a shockproof design and weighing less than 1kg, you will find it "Easy to learn, work and play" – making it your best outdoor companion anywhere, anytime. What´s more, it features a 8.9 inch widescreen, a 1.3M pixels webcam, and 12GB and 20GB storage capacities for Windows® and GNU Linux operating systems. – [Source]
Don't think that this little guy is cheap, it's around RM1500!! One good thing about my current job is, I have the chance to get my hands on some expensive devices. Normally, when I receive something, I have to double check the device condition before proceed to the warranty claim process.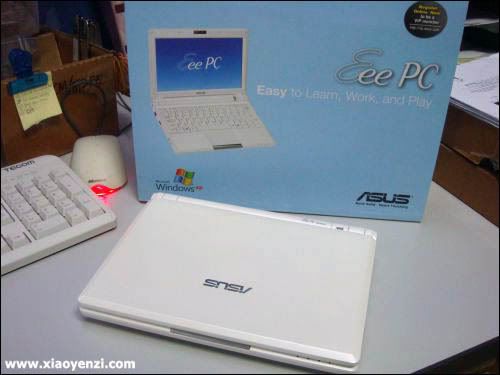 This notebook has display problems. Take a closer look at its screen. This is a company stock and it already has such problems. Well, I will have to say, purchasing computer hardware is 30% luck, 70% products quality. (My own theory, though)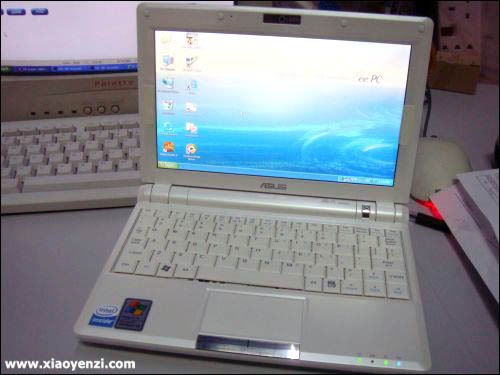 Let's zoom out a little, then you can see the difference of its size, comparing to a 14″ CRT monitor at the background.
It has a storage of 20GB, more than enough for those who always work and travel. I don't think it's good for gaming.
Have you seen such mini notebook before?