Jigoku Shoujo Season 1
Jigoku Shoujo is one of my favorite anime. It is a story of how people take revenge by a special mean – Jigoku Tsushin, the Hell Correspondence website.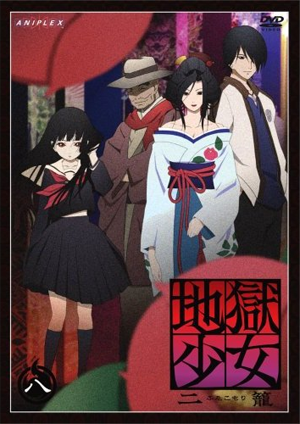 Title: Jigoku Shoujo (Season 1)
Alternative Title: 地狱少女 / Hell Girl / The Girl From Hell
Genres: drama, horror, mystery, psychological, supernatural
Episodes: 26
Age rating: Teenagers (May contain bloody violence, bad language, nudity)
Plot Summary: Somewhere in the vast sea of the Internet, there's a website that can only be accessed at the stroke of midnight. Known as the Jigoku Tsushin, rumor has it that if you post a grudge there, the Jigoku Shoujo will appear and drag whoever torments you into the inferno. Very little is known about the girl – all we know for sure is that she lives with her equally enigmatic grandmother, that three magical straw dolls accompany and serve her, and that whenever a posting on the Jigoku Tsushin moves her, she becomes the Jigoku Shoujo.
If you wanna watch this anime, great news, I've uploaded and put the links here:
Download Jigoku Shoujo Season 1 (with English subtitle):
Password for every episode: www.itpirate.net
Hope you enjoy watching this anime as much as I do. Oh,  the OST are nice too.