I'm so crazy about Kuma-Kuma, the cute green turtle (which is was also my blog theme layout). While shopping for Love-chan, I saw my favorite Kuma-Kuma!!
Recently, I have bought 2 Kuma-Kuma handphone accessories from different shop as part of my Kuma-Kuma collection.
This is the Kuma-Kuma handphone casing. It has furry texture. Cute? This cost me RM5.90.
A zoom in view of the Kuma-Kuma design. Simple stitch can already be so cute!
Another Kuma-Kuma handphone accessory which I never see in other places around my area is this….
Cute Kuma-Kuma handphone cushion / stand, for you to place your handphone.
So this is my Kuma-Kuma handphone accessory. Do you still remeber the Kuma-Kuma speaker behind?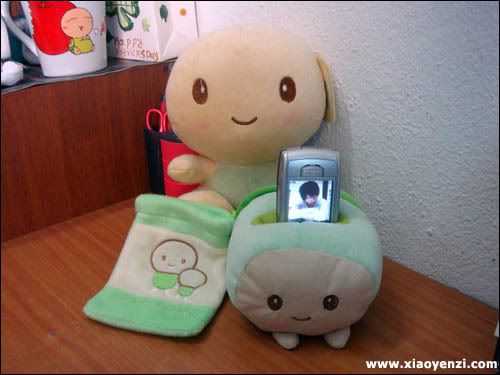 I love these accessories so much that I dare not use the Kuma-Kuma handphone casing, fearing that it will turn black after use.
Like Kuma-Kuma? Check out my Kuma-Kuma car accesorries collection too if you haven't.